Former President Donald Trump will hold a Labor Day weekend rally in Pennsylvania in an attempt to boost the struggling campaigns of Republican candidates Mehmet Oz and Doug Mastriano.
Trump's Save America PAC announced on Friday that the former president would be speaking in support of Oz, Mastriano and "the entire Pennsylvania Trump Ticket" at the Mohegan Sun Area in Wilkes-Barre on September 3. The upcoming rally was announced on the same day that Republican Florida Governor Ron DeSantis visited Pennsylvania to stump for Mastriano's gubernatorial campaign.
Although neither man has officially announced their candidacy, DeSantis is often considered a potential 2024 GOP presidential rival to Trump. During a Friday night speech in Pittsburgh, DeSantis urged Republicans across the country to "invest" in Mastriano's campaign and to help the fight against "woke ideology," according to The Philadelphia Inquirer.
"Literally minutes after Desantis finishes his speech today in PA and never once mentioned Trump's name, Trump puts out a statement announcing his own rally in PA," prolific online political commentator and former federal prosecutor Ron Filipkowski tweeted alongside "face with tears of joy" emojis.
Trump last visit to Pennsylvania was alongside Oz at a rally in Greensburg on May 6, when he urged President Joe Biden to take a cognitive test while boasting of his own past test results.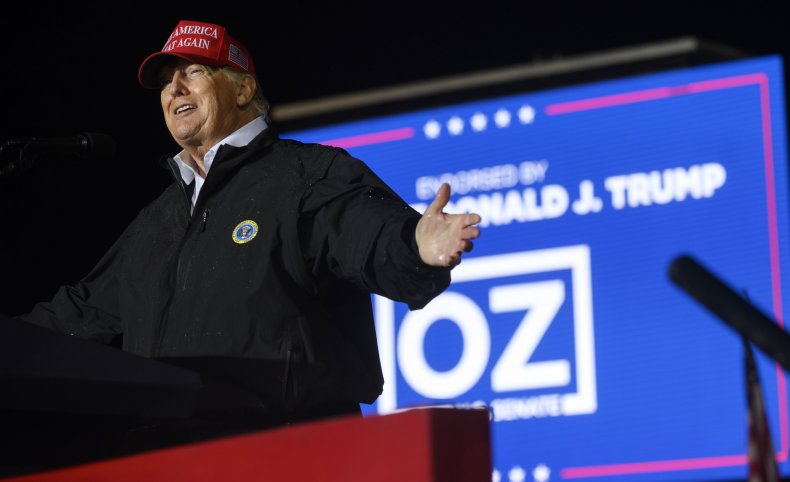 Oz's U.S. Senate campaign against Democratic Pennsylvania Lieutenant Governor John Fetterman has sharply nosedived in recent polls, while the celebrity doctor has been called out for campaign gaffes and faced repeated mockery from Fetterman.
In one heavily-criticized campaign video, Oz appeared in a grocery store that he could not properly name while complaining about the price of "crudité," which Fetterman pointed out most Pennsylvanians call "a veggie tray." In less than a week, Fetterman had raised over $1 million over the gaffe, according to Insider.
According to polling analysis site FiveThirtyEight, Fetterman is favored to win the election, with a 73 percent chance of defeating Oz. Several recent polls show the Democrat with a double-digit lead.
Mastriano, a Pennsylvania state senator and an enthusiastic supporter of Trump's false claims of a "stolen" 2020 presidential election, appears to be trailing in the polls by an even more…


Read More:Trump to hold Pennsylvania MAGA rally as Oz, Mastriano struggle in polls