Rudy Giuliani has suggested that if the American public couldn't see that the raid on the Florida property of his ally Donald Trump was the latest chapter of a left-wing "conspiracy" then perhaps the U.S. is "too dumb to be a democracy."
In an interview with conservative channel Newsmax, the former New York city mayor gave a wide-ranging critique of the branches of government, starting with the FBI search of Trump's Mar-a-Lago property and the removal of classified information reportedly found there.
"Now they want to make him responsible for having taken classified documents and preserve them," he said on Thursday. "If you look at the Espionage Act, it's not really about taking the documents, it's about destroying them or hiding them or giving them to the enemy."
"It's not about taking them and putting them in a place that's roughly as safe as they were in, in the first one," he told anchor Rob Schmitt.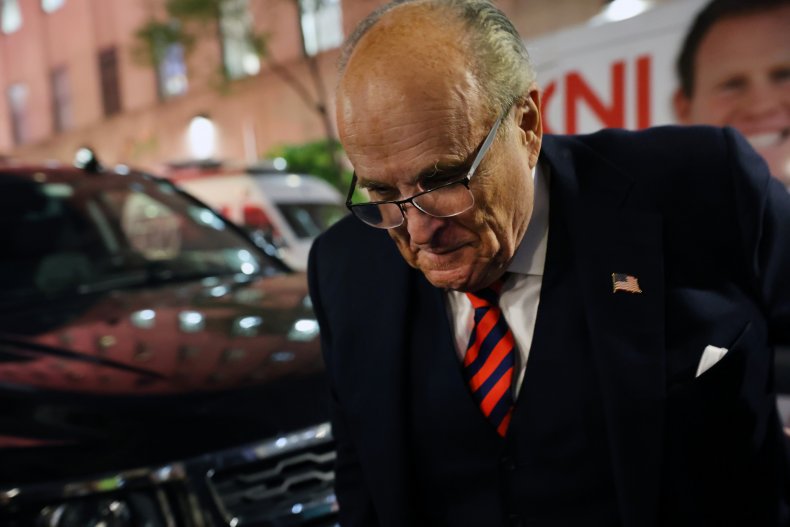 He said that the raid was "obviously part of a continuous, I hate to call it conspiracy but that's what it is, that started back in 2016," involving the Democrats.
When asked about media criticism of him and the prospect that the Trump team would "throw you under the bus," Giuliani referred to the investigation into claims of Russian interference in the 2016 election.
"Who ended up telling the truth about Russian collusion? Them or Trump and me," Giuliani told Newsmax, before explaining why the public should think that he and the former president have credibility.
"If the American people don't know what's going on by now, then our country could possibly be too dumb to be a democracy, Giuliani said. "I mean, it is quite obvious that they will frame him with every single thing they've got."
"And even if you don't realize they stole the election, there's something wrong here," he said, referring to his conspiracy theories about the 2020 presidential election won by President Joe Biden that have been repeatedly dismissed. Newsweek has contacted the Trump team for comment.
Giuliani was a key figure in the former president's attempts to overturn the 2020 election results. He was involved in a dispute with the Fulton County District Attorney's office over whether to testify before a special grand jury in its probe of the Trump campaign's efforts to overturn Biden's win in Georgia.
He was subpoenaed to testify following the June testimony of Trump aide Cassidy Hutchinson to the January 6 committee investigating the U.S. Capitol riots. After his appearance on Wednesday, Giuliani said he had "satisfied his obligation" under the subpoena.


Read More:Rudy Giuliani says U.S. "could possibly be too dumb to be a democracy"