MADISON, Wis. (AP) — Wisconsin Democrats looking to unseat Republican Sen. Ron Johnson focused their attacks on him Sunday, and not each other, as the eight candidates made their case to party activists at the state convention held six weeks before the primary.
The Democratic Senate candidates blasted Johnson for his attempt to deliver fake Republican Electoral College ballots to then–Vice President Mike Pence on Jan. 6, 2021, and his evolving explanation of his role in the scheme; his skepticism over COVID-19 vaccines; his voting for a tax law that benefited him; and his support for overturning Roe v. Wade.
See: Senate Republican Johnson of Wisconsin under fire over Trump fake-electors scheme, but Dairy State Democrats face headwinds, too
The race in Wisconsin, which Donald Trump narrowly carried in 2016 over Democrat Hillary Clinton but President Joe Biden won in 2020, could determine which party control the Senate. Polls show a tight Democratic primary between Lt. Gov. Mandela Barnes and Alex Lasry, who is on leave from his job as an executive for the Milwaukee Bucks.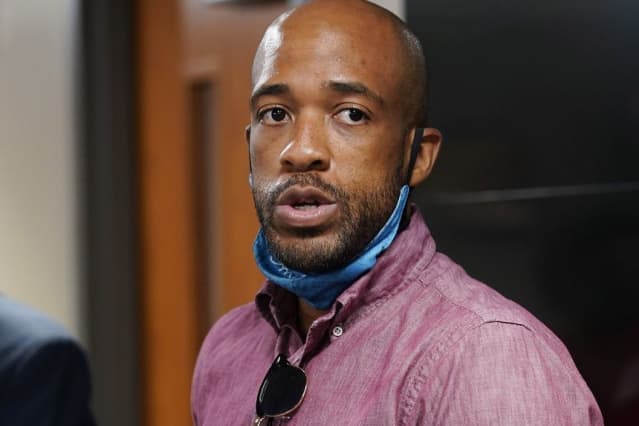 Barnes highlighted his upbringing in a "hardworking union household" in Milwaukee and contrasted that with Johnson, who is a millionaire and former owner of a plastics company.
Don't miss (July 2021): Sen. Ron Johnson mouths to Republican luncheon that climate change is 'bullsh—'
"It feels like the deck is stacked against us," Barnes said at the convention in La Crosse. "We don't want a hand out, we just want a fair shot. And we know we will never get that fair shot as long as Ron Johnson is in the Senate."
Lasry, a millionaire, touted his union support, his work to build the Fiserv Forum where the Bucks play and his role getting the Democratic National Convention to be in Milwaukee in 2020. He also contrasted himself with Johnson and blasted him for not fighting to persuade Oshkosh Defense to locate 1,000 jobs in Wisconsin rather than South Carolina.
"He's attacked organized labor," Lasry said. "Spread lies about COVID. Tried to overthrow the government. And he's even advocating to ship Wisconsin jobs to South Carolina."
Other candidates include state Treasurer Sarah Godlewski, Outagamie County Executive Tom Nelson, political organizer Steven Olikara, restaurant owner Kou Lee,…


Read More:Wisconsin Democrats sense new vulnerability in U.S. Senate incumbent Ron