As Donald Trump continues to prevaricate over a further run for the White House in 2024, another name has emerged as a possible candidate for the Republican party's presidential nomination: Florida's governor, Ron DeSantis.
The rising star of the conservative Maga movement – named for Trump's "make America great again" campaign slogan – has beaten the former president in several recent polls of party activists, some of whom appear to finally be growing weary of Trump's "big lie" that the 2020 election was stolen.
And with Trump's grip on Republicans taking hits, aided by scrutiny of his actions around the deadly 6 January 2021 riot when a mob of his supporters ransacked the Capitol building in Washington DC in an attempt to keep him in power, some analysts say the time could be right for a younger, more appealing candidate to seize the baton.
DeSantis, 43, appears to offer everything that the Maga base would want in a candidate, a high-profile yet irascible and media-hostile politician who embraces the ultra-conservative tenets of Trumpism, but without the baggage of Trump's two impeachments and seven-million vote thumping in the 2020 election after a single term in office.
While Trump, who left the White House in January 2021, berates his enemies real and perceived from his waterfront Mar-a-Lago mansion in Palm Beach, DeSantis has been enhancing his governing credentials from the Florida governor's mansion in Tallahassee.
In recent weeks he has signed numerous "culture war" bills into law, including stripping Black voters of power by gerrymandering Florida's congressional districts to favour Republicans; restricting how race and diversity are discussed and addressed in schools and businesses; and banning conversations of gender identity and sexual orientation in certain Florida classrooms with his "don't say gay" law.
DeSantis's self-styled war on "wokeism" has also encompassed banning mathematics textbooks deemed to contain "prohibited topics" including critical race theory; attempting to ban medical care for transgender youths; and picking a fight with Disney over its opposition to his clampdown on LBGTQ+ rights.
"He's nicknamed Governor Grievance," said Michael Binder, political science professor and director of the public opinion research laboratory at the University of North Florida (UNF), Jacksonville.
"Even though he has an election [to remain Florida governor] coming up in a few months, and I'm sure he's taking it seriously, the choices that he's making, the issues he's attending to and the actions he takes are really designed for 2024.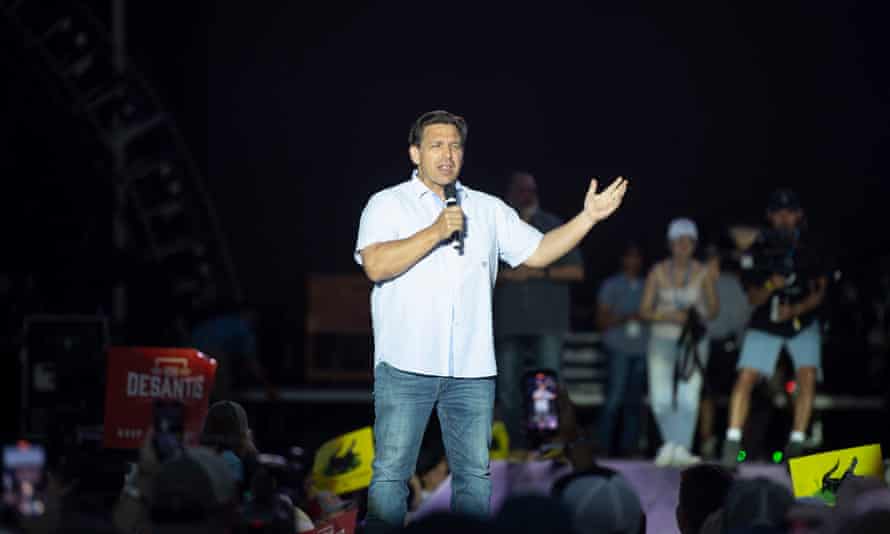 "The types of issues that are being discussed, particularly a lot of these social issues, in all…


Read More:Is rising Maga star Ron DeSantis the man to displace Trump in 2024?