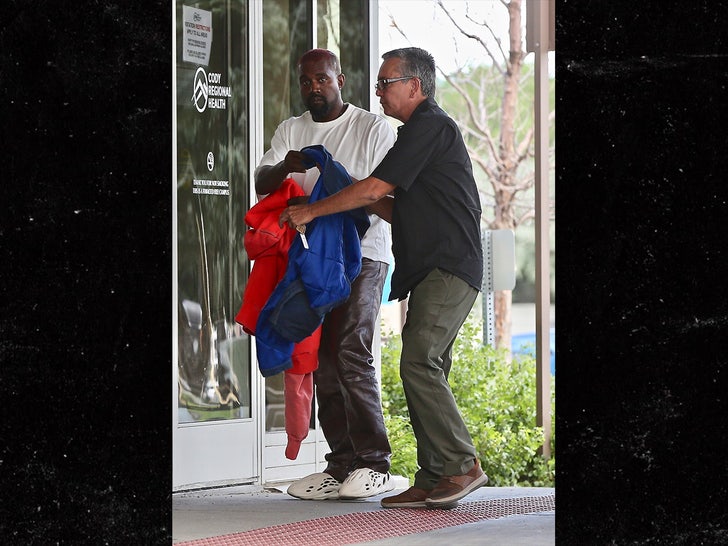 Exclusive Details
7:33 PM PT — After the ambulance left, Kanye invited 4 paparazzi inside his home.  We're told they were there for 2 hours — waiting — and Kanye finally came out for a few minutes.  WE're told he wanted the photogs to let him "control the narrative."  That was pretty much it, and they left.
A source connected to Kanye and with direct knowledge tells TMZ, he went to the hospital for anxiety, but there were lots of people inside, he got uncomfortable and left. His people then arranged for an ambulance to come to the ranch. EMTs checked his vitals — heart rate and blood pressure — and determined he was not in danger.
Kanye West showed up at a hospital near his Wyoming ranch Saturday, and a short time later an ambulance arrived at his property … TMZ has learned.
Kanye entered the E.R. door of the hospital in Cody Saturday afternoon, and stayed inside for about 10 minutes. We're told he returned to his ranch and a short time later an ambulance arrived on the property.
We've also learned Kanye had flown from Wyoming to San Francisco. It's unclear why he went, but he returned to Wyoming earlier on Saturday.
It's unclear why Kanye went to the E.R. and why an ambulance showed up. The big question … did he go for help?
And, we just found out the ambulance left without Kanye. He's currently on the ranch riding his ATV.
Originally Published — 4:40 PM PT


Read More:Kanye West Visits Hospital Over Anxiety, Invites Paparazzi Inside Ranch