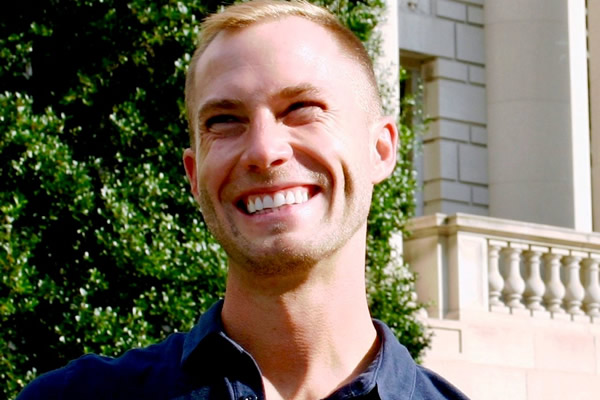 LGBTQ rights activist and Dupont Circle Advisory Neighborhood Commissioner Randy Downs announced on Wednesday he is a candidate for the Ward 2 D.C. Council seat in the Nov. 3 general election as an independent.
"I'm running as an independent for Ward 2 Councilmember because I believe we need bold, ethical leadership on the Council," Downs said in a statement. "A leader to address inequities and make Ward 2 accessible for everyone, while protecting what works for our communities," he said.
Downs, 32, is challenging former Assistant D.C. Attorney General Brooke Pinto, who won both the June 2 Democratic primary for the Ward 2 seat and a June 16 special election to fill the seat until Jan. 2, 2021.
The special election was called after longtime Ward 2 Council member Jack Evans resigned in January when it became clear that his Council colleagues were about to expel him from office for charges of multiple ethics violations.
Also running for the Ward 2 seat in the November election is Republican Katherine Venice and independent candidate and political newcomer Martin Miguel Fernandez.
In every election for the Ward 2 Council seat since the city's first home rule election in 1974, the Democratic candidate has won in the general election, indicating Democrat Pinto, 28, the Council's youngest member, is considered the strong favorite.
However, some political observers point out that Pinto won the primary in an eight candidate race with just 28 percent of the vote, narrowly beating Foggy Bottom ANC commissioner Patrick Kennedy, who came in second place with just under 25 percent of the vote.
She won the special election with 42.6 percent of the vote in a seven-candidate race after nearly all of the candidates who also ran in the primary suspended their campaigns and endorsed her after she won the primary two weeks earlier. Pinto has expressed strong support for LGBTQ rights.
Downs currently works full-time as a program assistant for the Washington Office of the Sierra Club, a national nonprofit environmental advocacy organization. He said he will be a strong advocate for environmental issues if elected to the Council.
"The District vowed to meet 100 percent renewable energy and sustainability goals by 2030," he said in the statement announcing his candidacy. "We need a leader at the Council who will make sure the city follows through on these promises," he said.
Downs also said his role as an out gay Council member would be important for the LGBTQ community.
"While D.C. has the most LGBTQ residents per capita of any city in the United States, the Council has no LGBTQ member to champion protections for the community," he said….